Multiple choice: What do I have in common with style icon of the moment, Don Draper, the fictional 60's ad executive of AMC's drama Mad Men?
3-martini lunches
shameless womanizing
a dark and mysterious past
Yeah, it's the shave.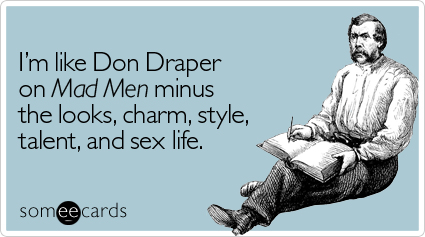 But for me, shaving like a Mad Man is as much a matter of economy as it is style. That's because the double-edged safety razor dates to the era before the "give away the razor, sell the blades" business model and the blade-count arms race that define this market today.
An all-metal safety razor and quality badger-hair shaving brush are things that men only needed to buy once–or at worst once in a long while. In fact, I'm pretty certain I could be shaving with my grandfather's safety razor today if I'd had the sense to take it 15 years ago when he was giving away some of his things. Meanwhile, the rechargeable electric razor I was using at that time went in the trash years ago.
 So just how thrifty is Don Draper's shave? Here's how my costs compare to a contemporary cartridge razor:
My shaving gear
Vintage Gillette razor and badger brush from Junk Bonanza: $15
100 Shark stainless double-edge razor blades: $17
Proraso aloe & green tea shaving soap: $9
chrome razor stand: $20
Total: $61
Contemporary cartridge razor
I have had my shaving kit for 10 months and I haven't used up any of it. The 100-pack of blades will easily last 2 years at my current rate of consumption. Even if each cartridge razor lasted 4 times longer than a double edged blade, I would need to spend $84+ to get the same number of shaves I can get from $17 of safety razor blades.
The double edge blades also use much less packaging, are much simpler to produce, and yield a much smaller volume of waste. That means this is one instance in which the thrifty choice happens to be the green choice, too.
"That's all great, Josh," you'll say, "but how well does this old razor work?"
Absolutely fine. After all, how much technology does it really take to cut hair? (I don't see hair stylists using 5-blade cartridge scissors.) A razor that is sharp–no matter how many blades it has–is the most important part of getting a close, safe shave. Because my blades cost only $.17 apiece, I change them frequently so I'm always shaving with a sharp blade.
A closing confession
When I bought bought my vintage razor and badger brush I wasn't really sure I would use them. I just thought they would look great on my bathroom shelf. And they do. But I also found out that if I ignored the modern day Don Drapers pushing expensive high-tech disposable cartridge razors, an old-school shave can be close, classy, green, and wonderfully cheap.